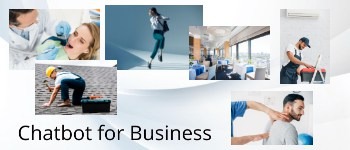 Chatbot for Business
The Chatbot Developers
The Importance Of Using Chatbot For Business, And Why You Should Have It Too
Over the years, technology has made such a huge difference in people's quality of life. Things are easier to move around, cleaning the house isn't as dreadful as it used to be, the pile of laundry and dishes can now be done with a simple press of a button. With that being said, it has also changed the way entrepreneurs run their own businesses. While nothing can still replace how a human mind works, most often, technology has made it easier for everyone to focus on things that are more important than a repeated task. Take for instance using a chatbot for business.
If you're not utilizing it yet, here are some reasons why you need to use it today.
Chatbot Saves Your Business Time And Money
Most of the time, customers have a series of questions that they ask all over again. The way customer service works, it is your job to make sure that no matter how simple or basic the question may seem, you cannot invalidate that question and you need to provide answers for your customers. Instead of responding to these questions manually, here's where a chatbot plays an important role. You can create a system where the chatbot automatically provides the answers to commonly asked questions. This means that you can efficiently run your business by delegating tasks, time, and resources to your staff that requires more effort than simply answering repeated questions.
In this era of Digital Marketing, chatbots are not only limited to customer service and answering questions but they are involve in so many other things including lead capturing, lead conversion, cart checkout, engagement using quiz/questions and much more. When you run an advertisement, a potential customer can come to your website and not buy your service/product since there is nobody "talking" to him. If you place a chatbot instead, it can not only answer customer's questions but also make him buy your products/services by incentivize him and adding upsells etc. These chatbots are very effective in these campaigns.
Satisfied Customers
No matter what kind of business you run, whether you own a restaurant, fancy boutique shop, a local service, dental clinic or hospital, a nail spa, and salon, or an e-commerce website, customer service is crucial. You have to make sure that people will get their answers as soon as they can - and a chatbot for business can make this possible on your behalf.
It has been found out that these chatbots have generally revolutionized customer service as these bots can run 24/7. This means that your customers no longer have to wait for 24-48 hours to receive a response from your staff - unless it's a specific question and an isolated case. However, for common issues, questions and inquiries, your customers can instantly get accurate answers from a chatbot application. At the end of the day, that's what every business wants to achieve - happy and satisfied customers.
Eliminate Human Errors
Because chatbots have been pre-programmed, they don't tend to forget important details or things to mention to the customers. These bots do exactly what they've been programmed to do - hence, no room for errors.
Increase Customer Conversion Rates
Aside from providing common answers to frequently asked questions, you can also program a chatbot to direct customers to a funnel, which generally helps increase conversion rates and sales. In fact, these chatbots can suggest similar products or services related to what they're looking for. You help the customer find the right products they need, eliminating their need for browsing products, which increases checkout rates. They can also offer different combination of products/services based on customers need by asking simple questions. It helps customer find and purchase what he is looking for and you also end up selling more products/services with the help of chatbot.
Personalization
One of the best things about a chatbots is that you can personalize this exactly for your business' demands. You can change how the programs respond, include buttons, and many others. If the customer is returning with a new set of questions, the chatbot then understands the latest product that has been shown to the inquiring customer, which means that the customer doesn't have to go through the series of questions over again. Chatbots can follow rules and apply that knowledge to find what customer is looking for. Modern chatbots can even apply Artificial Intelligence to personalize the experience which eventually increases the conversion.
High Request Handling Capacity
Compared to a human support agent, chatbots can handle multiple questions at a time, and their efficiency won't suffer regardless if it's 10 customers or 100,000 customers. It can assist more customers per minute making it easier for you and your staff to focus on more important aspects of the business. In case of a popular campaign you are running, chatbots can do wonders because they can scale and apply the same rules/artificial intelligence to all customers coming to it without any problem and can scale easily to any number of simultaneous customers and give them the same experience which they love.
Flexible Options
As mentioned earlier, chatbots are applicable to all different types of industries. Whether you're a teacher selling digital courses, a local restaurant owner, or someone in the medical field offering in-house consultations or accepting clinic appointments, a chatbot application is flexible enough that it suits almost all types of businesses. You can even find multiple templates that are suited for different industries taking the difficult part of the programming on your end.
Conclusion
Chatbot for business has been proven to have played huge importance in the industry, and the only thing that's left for you as a business owner to make sure that you know what you want your chatbot to achieve. Do you want your chatbot to answer questions, provide buying assistance, direct them to helpful informational posters? It could be a combination of one or more of these, but the important thing is that you do understand how you intend to use your chatbot. Once you've figured that out, everything else is a bit easier. Start building the bot from your intentions, and take it from there. These chatbots can be used in ANY business in different ways. Restaurants, Dentist, HVAC, Plumbers, eCommerce, Insurance Sales, Real Estate, Roofing contractor and any other business can take advantage and build/use these chatbots.
What We Do?
We at The Chatbot Developers help businesses by showing them how chatbots can be a useful piece of puzzle into their business and how they can grow using them. Most of the times businesses want to focus on actual business and not spend time building and managing these chatbots and thats when we help them and build chatbots and run campaigns on Google and other Social platforms utilizing chatbots. Please contact us by using "Schedule A Free Call" button on this page and we will show you how it can work for your business as well.